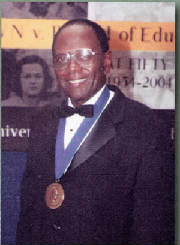 MR. JOHN ARTHUR STOKES
Activist! Plaintiff! Author!
Educator! Lecturer! Trailblazer!
"I am hiding in the bushes to keep from being seen and/or discovered. In my haste to hide, I accidentally ripped the skin off my leg. I now feel that fresh blood as it soaks through my clothing. No, I have not committed any crime. It is the era/time in which I am now living that created this problem. I am living in the era
of 'Separate But Equal'. This law did very little to protect people of color."
The above quote is the opening passage and chapter in Stokes' book titled

Students on Strike

. In this book, J. A. Stokes takes everyone on a journey so that all can experience what he experienced, lived through and/or felt during that scary period in history. Hence, one will understand fully why Stokes was hiding on that hot, humid, moonless night, along a major highway system in rural Virginia.
In this day and time, the experience cited above and others that would match the category through which Stokes and his peers experienced and suffered would be looked upon by some as a type of bullying. Thus, the bullying pulpit had been established by 'The Separate But Equal' Doctrine. After all, this was the law of the land during that time. It was separate, but it was NEVER, EVER equal. The law was known as Plessy V. Ferguson.
Hence, we had had enough; the idea of a strike was born. As a high school activist and a Key strike leader in 1951, Stokes became a part of a movement that was felt and heard throughout the world. This strike set the stage for Stokes to become one of the original plaintiffs in the landmark civil rights case, Brown v. Board of Education.
Mr. Stokes served as a teacher, a master teacher, assistant principal, assistant to the superintendent, and principal in Baltimore City Public Schools before retiring as principal in 1994. One would think that after retiring, Mr. John A. Stokes would have slowed down a bit-----On the contrary, since retiring, he has served as an adjunct professor at different colleges and universities.
Mr. Stokes has received a multiplicity of awards and recognitions due to his stance for the rights of all people:
*** The Dr. Charles Hamilton Houston Award
*** The A. Leon Higginbotham Award
*** a United States Department of Justice Award
*** a Congressional Senatorial Award
*** an N.A.A.C.P. Award
*** an N.E.A. Award
*** an Award from The Community Teachers' Institute
JUST TO NAME A FEW!!!!!!!!!!!!!!!!!!!!!!!!!!!!!!!!!!!!!!!!!!!!!!!!!!!!!!!!!!!!!!!!!!!!!!!!!!!!!!!!!!!!!!!
As if that's not enough,
the
greatest
recognition to date would have to be Mr. Stokes' likeness in a figure that is now displayed among others in a civil rights monument on the Capitol grounds (at The Capitol Square Civil Rights Memorial) in Richmond, VA. This unique statue was unveiled in July 2008.
Enter Here
to view monument.
As previously stated, Stokes is the author of: STUDENTS ON STRIKE: Jim Crow, Civil Rights, Brown and Me with Dr. Lois Wolfe and Dr. Herman Viola.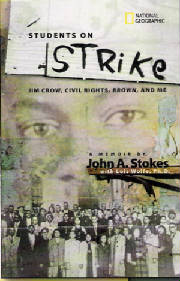 "In this moving memoir, John A. Stokes recounts his experiences growing up in the oppressive conditions of the Jim Crow South. And for the first time ever, he reveals the workings of the student committee that planned and executed a strike for better conditions at Robert Russa Moton High School, a strike that made Stokes a plaintiff in the landmark civil rights case Brown v. Board of Education and helped change life in the United States of America forever." ~National Geographic
These days, Mr. Stokes devotes most of his time to lecturing on the Supreme Court's landmark case: Brown v. Board of Education. "It is his fervent hope that this book will encourage readers to take a stand for equality and justice for all people." Mr. Stokes is now in the midst of lectures/tours in order to promote this historical and significant information to people throughout the country. J. A. Stokes continues to expound upon the Civil Rights Era and the continued needs to keep up the fight for equality and justice for all people. He stresses the fact that all people should become Social Engineers for change. Throughout his career, Mr. Stokes has never forgotten whose shoulders he has stood on. Hence, he has never forgotten his roots.
Mr. John A. Stokes has also been dubbed as one of the African American Trailblazers in Virginia History. Please click HERE to view the article.
One of the greatest moments of Mr. Stokes' travels:
16 May, 2014---Celebrating 60th Anniversary of Brown V. Board
White House---Washington, D. C.
J. A. Stokes--Original Plaintiff with President Barack Obama.
John A. Stokes with President Obama
Plaintiffs and family members of the Brown v. Board of Education case met with President Barack Obama on the 60th anniversary of the U.S. Supreme Court's decision, as reported on page 7 of the July/August 2014 issue of TSSP. The White House recently released some press photos from that event, and here is one of them. Stokes, who helped lead a student strike at a Prince Edward County school for blacks in 1951, has been a frequent presenter at NCSS Annual Conferences. His Social Education article, "A Bus Ride Across the Mason-Dixon Line during Jim Crow" was published in October 2010. His autobiography for youth, "Students on Strike: Jim Crow, Civil Rights, Brown, and Me," with Lois Wolf and Herman J. Viola, was published by National Geographic in 2007. NCSS has endorsed the 30-minute documentary film "Mr. Stokes Mission," about the student strike and Stokes' subsequent career as an educator.